BREAKING: 9/11 MASSACRE [VIDEO]
CINCINNATI – Hamilton County Prosecutor Joseph T. Deters announced the indictment of Taahviya Chapman for one count of Aggravated Murder, two counts of Murder, two counts of Felonious Assault, one count of Attempt Murder, and one count of Endangering Children.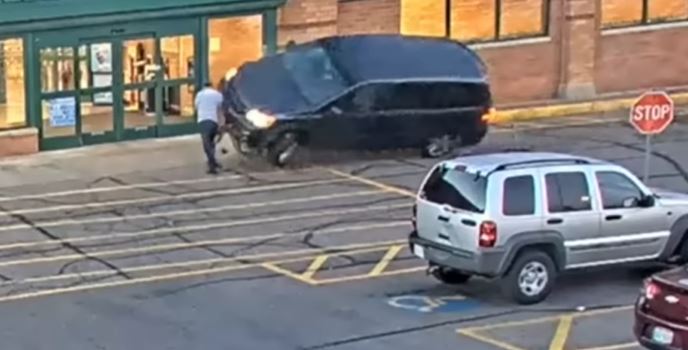 If convicted on all charges, Chapman faces a maximum possible sentence of life in prison.
Chapman drove her car into Christopher Griffith and Jawon Khalid Lunsford outside of the Spring Grove Village Kroger.
After Chapman hit the two men, she proceeded to exit her vehicle and continued to physically assault Lunsford, who was her intended target.
Lunsford shares an infant child with Chapman, who was in Chapman's vehicle at the time of the assaults.
Griffith, who was attempting to enter the Kroger when he was struck, succumbed to his injuries after he was transported to the University of Cincinnati Medical Center.
Lunsford suffered a broken leg as a result of the attack.
"While he was in Kroger she apparently went through his cell phone and believed that he had in an inappropriate relationship with her sister," Deters said. "What this woman did is sickening."
"Her total disregard for human life is stunning."
"This woman didn't care about the lives she put in danger – including her own 8-month-old child."
"That level of selfishness is impossible to understand, but we will do everything in our power to ensure she spends the rest of her life in prison. Every day, we see crimes that are more violent and more callous."
"As a people, we live in the bed we have made. Useless, endless, and ineffective programs – combined with the decriminalization of crime, the hatred of law enforcement, and misguided blame on everyone but the bad guy has caused this."
"I can only deal with the results. It is high time society and its leaders deal with the true causes."
Here's a few versions of the video in case Twitter or YouTube removes it!
CAUTION– VIDEO IS GRAPHIC!
Disabled man fatally struck by woman driving a van in Cincinnati.

Her intended target survived with only a broken leg.

"While he was in Kroger, she apparently went through his cell phone and believed that he had an inappropriate relationship with her sister," the DA said. pic.twitter.com/RJ8YwQq8Tm

— T. Grant Benson (@GrantB911) September 12, 2022
INSANE!
###
HCPO
H/T: AMERICAS FREEDOM FIGHTERS
God Bless.
Please take a moment and share our articles with your friends, family and on all social media sites! Thank you, we appreciate it!