BREAKING: Russia FINALLY Blames America
Someone SABOTAGED the Nord Stream pipeline but who? Was it The United States? Putin thinks so.
WHO DID IT?
Mac Slavo at SHTFplan.com reports that Retired US Army colonel Douglas Macgregor who was a Pentagon advisor claimed that the United States is most likely the state actor that sabotaged the Nord Stream pipelines. In doing so, the U.S. has isolated Germany and made certain they have a cold and dark winter.
Macgregor added that Britain probably also played a role and that the attack was carried out to prevent Germany from bailing on the war in Ukraine. During an appearance on the Judging Freedom podcast. Macgregor said a process of elimination rules out Germany, because they are dependent on Nord Stream for their energy security, while it also served no benefit for Russia to have sabotaged its own infrastructure.
Russia is blaming the United States for the damages done to the Nord Stream 1 and Nord Stream 2 pipelines. The mainstream media is calling Moscow's claims "baseless" even though Joe Biden is on record saying he will take the pipelines out.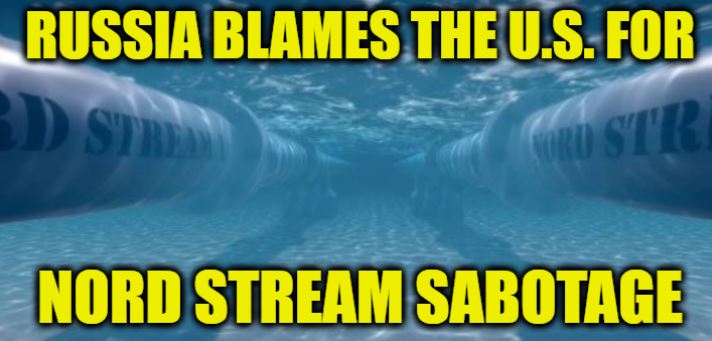 NATO leaders also believe the damage to the Nord Stream 1 and 2 pipelines between Russia and Germany is the result of sabotage, however, NATO has refrained from identifying a suspect pending an investigation into the damage.
The pipelines were not meagerly built. It would have taken a state and not a private criminal to destroy them.
How strong is a Nord Stream pipe? Quite!

The steel pipe itself has a wall of 4.1 centimeters (1.6 inches), and it's coated with another 6-11 cm of steel-reinforced concrete. Each section of the pipe weighs 11 tonnes, which goes to 24-25 tonnes after the concrete is applied. pic.twitter.com/BFYnv36CaF

— Javier Blas (@JavierBlas) September 27, 2022
The CIA even warned Germany of an upcoming attack on the pipelines that would severely limit German's access to natural gas as winter approaches.
CIA warned Germany weeks ago of coming attack on natural gas pipelines Nord Stream I & II (from Russia to Germany), reports Der Spiegel.

Russia could have pulled off such an attack but "It is difficult to see whether Russia or Ukraine could have an interest in such an incident" pic.twitter.com/7jZWvYdhgI

— Michael Shellenberger (@ShellenbergerMD) September 27, 2022
Two Nord Stream 1 leaks have now been identified; like the Nord Stream 2 rupture, they're near Bornholm. There are three ruptures in total.
Biden had come right and out and declared that he'd be able to end Nord Stream 2 if Russia invades Ukraine.
"Pres. Biden: "If Russia invades…then there will be no longer a Nord Stream 2. We will bring an end to it."
Reporter: "But how will you do that, exactly, since…the project is in Germany's control?"
Biden: "I promise you, we will be able to do that."'
Pres. Biden: "If Russia invades…then there will be no longer a Nord Stream 2. We will bring an end to it."

Reporter: "But how will you do that, exactly, since…the project is in Germany's control?"

Biden: "I promise you, we will be able to do that." https://t.co/uruQ4F4zM9 pic.twitter.com/4ksDaaU0YC

— ABC News (@ABC) February 7, 2022
In January 2022, Undersecretary of State for Political Affairs Victoria Nuland said: "If Russia invades Ukraine, one way or another, Nord Stream 2 will not move forward."
⚠️January 27, 2022 VICTORIA NULAND: "If Russia invades Ukraine, one way or another, Nord Stream 2 will not move forward." pic.twitter.com/gYSaMd0yJc

— AZ 🛰🌏🌍🌎 (@AZmilitary1) September 27, 2022