New Biden Billboard Embarrasses the President – Ice Cream-Eating Joe Forced to Face Soaring Inflation
What's Happening:
Recently, Joe Biden was asked about the ongoing problems with our economy. We all know the country was recovering… before Joe entered office. Most of his decisions set us on a track headed for disaster. He triggered runaway inflation, shut down our energy section, and continues to ignore signs of recession.
Yet, while slobbering over yet-another ice cream cone, Biden claimed our economy was "strong as hell." Well, that ugly moment is coming back to haunt the failed president. Because a group has just posted a new billboard exposing the true facts about Bidenflation.
From The Washington Free Beacon:
Visitors to Times Square this week will be greeted with a reminder of the record inflation facing the country and the president overseeing it, while he slobbers over an ice cream cone.

The Job Creators Network, a business advocacy group, on Thursday set up an electronic billboard in the busy New York City intersection that shows President Joe Biden eating an ice cream cone next to statistics showing the soaring prices of the dessert's ingredients.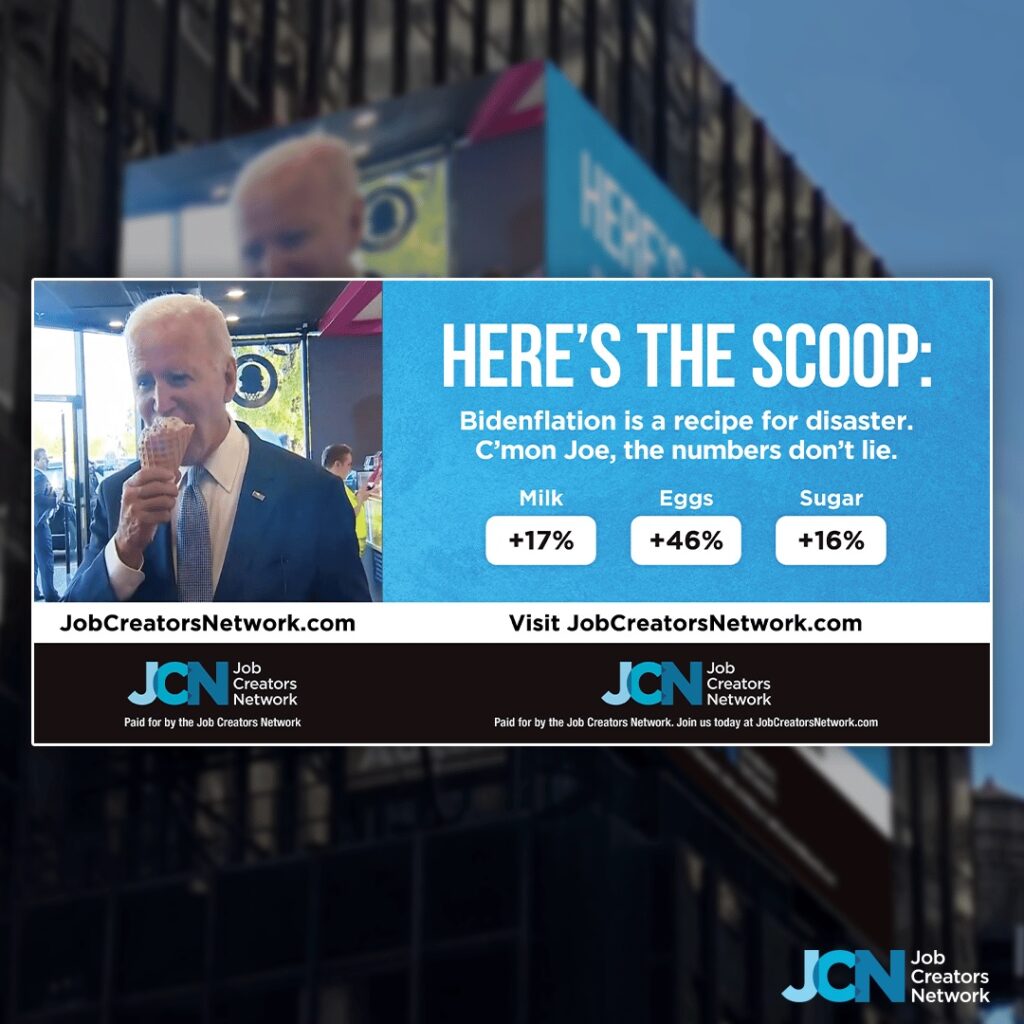 How bad is it? Thanks to Joe, the price of nearly every basic necessity has gone up by large margins. According to the billboard, milk costs 17% more than last year. Eggs are a shocking 46% more expensive. And sugar costs 16% more.
Why are staples like milk, eggs, and sugar unreasonably more expensive? Two words: Joe Biden. The man is so terrible at his job that he can't even ensure the affordability of milk and eggs. Things that everyone needs to get by are ridiculously expensive.
Yet this cruel, sad excuse for a "president" licks his ice cream as he dismisses the pain of millions of Americans. The economy isn't "strong as hell," when working families can't put breakfast on the table. For some people, even a mild increase in prices will hurt them. But when staples are going up by 46%, many are feeling serious pain.
And Biden just smirks and eats his ice cream. He doesn't seem to care that his failed presidency is hurting so many Americans. We're not even sure if he knows what is going on in this country. His handlers could be telling him he's doing great, shoving a cone in his face, and escorting him to the next photo op.
It wouldn't surprise me one bit if that was the case.
Key Takeaways:
A new billboard exposes Biden's failures on inflation.
It depicts Biden eating an ice cream cone when he claimed the economy was "strong as hell."
The billboard reveals the cost of milk, eggs, and sugar have gone up significantly since Biden took over.
Source: The Washington Free Beacon